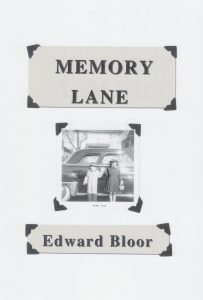 Memory Lane, America's most popular new theme park, promises to provide its guests with "golden memories." Choose any week—from 1950 to the present—and Memory Lane will recreate it for you in amazing detail: the foods, the clothes, the TV shows, even the schools. You will soon forget about the present and start living in the past.
But is that a good idea?
Alice hopes Memory Lane will provide a week of personal healing and of family bonding. Instead, Alice and her cousins Patrick and TJ find themselves struggling with a pair of psychotic bullies, and with the pain of young love, and with a shocking family secret that was, perhaps, better left buried in the past.
Smart, funny, and frightening, Memory Lane is Edward Bloor's most powerful and insightful novel to date.
Order Memory Lane e-book by clicking here!
Click here for the paperback version!
Versions
Kindle—ASIN: B004GHN84S
Nook—ISBN: 001199617X
Ages 10-15