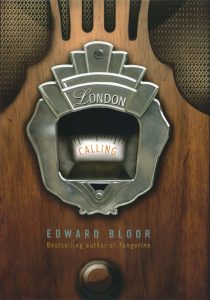 Suddenly, I became aware of another person in the room. I sat upright, totally alert, straining to see in the dark. That's when it happened. A boy, small, thin, dressed in mud-brown clothes leaned out from behind the radio and whispered, "Johnny, will you help me?"
Martin Conway is sleeping his life away, aimless and unhappy, until the boy appears in his room. He is a long-dead English boy, and he has an urgent question to ask.
Martin, for his own sanity, hopes and prays it is just a dream. But then one dream becomes two; then three; then four. And the dreams are startlingly vivid. As Martin follows the boy through Blitz-ravaged London in 1940, that city's fiery streets thrill him more than any place he has ever known.
Each time Martin wakes, he discovers that he has met real people and been to real places, and he has learned real things, including dark, personal secrets, that no one could have possibly known.
Struggling to reconcile his dream world and the waking world, Martin gradually starts to believe, in the boy, in time travel, in himself. And Martin's life, which had once seemed so pointless, takes on a great purpose that he could never have imagined.
Order London Calling by clicking here!
Awards
Virginia Readers' Choice Selection 2010
Bookbinders' Guild of New York Award 2008
Versions
Paperback 2008 Harcourt
Audio CD
Ages 9 and up!